Culture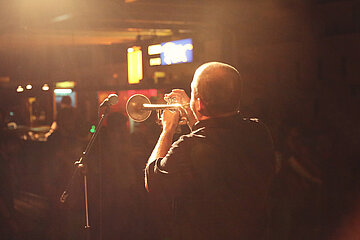 Culture for students - culture from students: During the semester we organise a varied cultural programme with concerts, slams, music theatre, football broadcasts, international evenings and parties in the MensaBar (Rempartstraße), in the Mensa Institutsviertel and in summer also in the beautiful MensaGarten Rempartstraße.
The Studierendenwerk Freiburg (SWFR) offers young student talents support in many areas, e.g. performance opportunities, exhibition areas, support for cultural projects or help with the conception of events. If you have your own ideas for events or would like to take part on or behind the stage, you are always welcome!
In the foyer of the Mensa Rempartstraße, the MensaBar has become an ideal and popular area for student culture. With a long bar, a stage, a light and sound system, a screen and a video projector, the prerequisites for all kinds of artistic expression are given: from readings to theater to party and club events or live music. Culture for students and by students!
Directions
From the A5 - take the Freiburg-Mitte exit (62) - continue straight on the B31a for about 3.5 km - you will reach Freiburg im Breisgau - turn left towards the University Library - cross the river and continue straight on the B3 - leave Erbprinzenstraße on your right - take the next right into Rempartstraße - you've made it!
Room plan
Floor plan MensaBar (PDF)
Sample plan of event layout (PDF)
Entertaining games, cheap drinks and a cozy atmosphere in the MensaBar with table tennis, Mario Kart and Beer Pong.
Singers, musicians and groups of all styles can show their skills for 15 minutes at Lied.Gut! Conditions: The technical effort for the setup must not take longer than five minutes. Interested bands can apply with a short band info, photos and demo. (Contact details on the right side of the page)
Since 2007, Mondo, the music theater group of the Studierendenwerk Freiburg (SWFR), has successfully performed its original productions on the stage of the MensaBar. Every year, we look for students of all disciplines who feel like getting involved on, behind, or in front of the stage - with their ideas, their skills, or their support: as part of the ensemble, you will work on the development of the play under professional direction during the rehearsal and rehearsal period, receive professional instruction in singing, acting, and dancing, and experience an intense and unforgettable time in a community that is firmly growing together.
You want to know more about the productions and the current casting? Then take a look at this page: www.mondomusical.de
The podium for slam artists and writers, cabaret artists, musicians, performers, poets, filmmakers, actors and clowns!
Fast beats instead of fast plates! Rempart-Rave means #electronicmusic at its best. Various DJ's show their skills to make Rempartstrasse 18 shake and provide an unforgettable experience.
Every semester there are several concerts in the MensaBar. A wide variety of bands and DJs play music of all imaginable styles. Bands interested in performing at the MensaBar can apply. (Contact details on the right side of the page)
We have cooperations with cultural institutions in Freiburg such as Literaturbüro Freiburg (zwischenmiete - readings in WGs), Vorderhaus - Kultur in der Fabrik (Freiburger Kleinkunstpreis für Studierende) and Kommunales Kino (Living Walls - Kinowanderung).