Studitours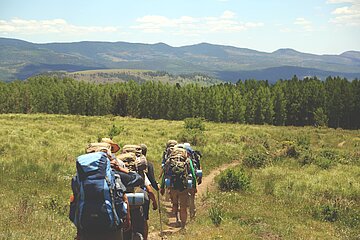 The "Studitours" have been around since 1994 - and our travel program continues to enjoy great popularity among students from Germany and abroad. Hikes through the Black Forest, the Kaiserstuhl, the Vosges or the Alps, city trips to Zurich, Basel, Strasbourg, Heidelberg or Baden-Baden, excursions to Neuschwanstein Castle, Lake Constance, Alsace or the Mercedes-Benz Museum Stuttgart - or even multi-day trips to Paris or Florence - there should be something for every taste. The low-cost tours are prepared and accompanied by teams of student tutors. So you have the chance to explore the near and far surroundings of your place of study and to get to know many new people.
You can regiter online in the event calendar.
Please note that your registration is only valid if you have paid the registration fee to the SWFR within 3 working days. You can pay your registration fee either by bank transfer or the Infoladen of SWFR (Mon-Fri, 9am to 5pm).
Bank details for payment by transfer:
Account holder: Studierendenwerk Freiburg, Anstalt des öffentlichen Rechts
Name of the bank: Baden-Württembergische Bank
IBAN: DE79 6005 0101 7438 5013 49
BIC: SOLADEST600
Please enter as reason for payment:
- the type of event (Studitours,Workshop, Sports course)
- the exact name of the event
- the date of the event
Please keep the receipt and bring it with you on the day of the event. We or the event manager will contact you directly for further information or in case of changes.
You have question about booking, cancellation, travel documents or the like? Then check the Q&A Studitours!
Members of the International Club get discount for many of the Studitours. The IC membership is available in the Infoladen of the SWFR for only 2 Euros and is valid for a whole semester!
DO


23.03.23

Internationaler Club, Kultur
Fotoausstellung "Andererseits" - Einladung zur Führung
MI


29.03.23

Sport & Freizeit, Kultur
Mensaführung in der Mensa Furtwangen
Schau hinter die Kulissen Deiner Mensa!
11:00 - 13:00 Uhr Kosten: Eintritt frei / Eintritt frei
Mehr erfahren