Studieren mit Kind - Informationen
Studying with children - information
Studying with children? Student Services Freiburg assists students with children in various ways from day-care to free meals for children in the Mensa.
Anyone who has personal or study-related problems can turn to us. Our counseling centers offer professional support free of charge. Our social counseling helps with questions about social benefits, financial relief options, childcare and insurance, and puts you in touch with other counseling centers and offices. Contact via the sidebar in the box to the right.
Our Student Financial Counseling Service advises on loans and scholarships and provides emergency funds for acute emergencies.
Contact via stufi@swfr.de
Our Psychotherapeutic Counseling Service helps you with personal or study-related problems and supports you in overcoming challenging situations. The PBS also offers workshops for successful studying.
Contact via pbs@swfr.de
Our Legal Counseling Service helps with a free initial consultation.
Contact via rechtsberatung@swfr.de
There are some special regulations for pregnant women and students with children, for example a childcare allowance for students who live in the same household with their children under the age of 10 or relief in the repayment of the loan portion.
Our BAföG department will be happy to help with any questions.
Contact via bafoeg@swfr.de
In addition to our SWFR daycare centers Kleine Knöpfe and Kita Pusteblume, we have other cooperations. In addition, we offer the babysitter exchange, which is a free offer. Through our exchange, parents can find suitable babysitters at short notice, quickly, easily and according to individual needs. You can find the exchange in our job agency in the service portal. The Studierendenwerk is only a mediator. In the case of babysitting, a contract must be concluded between the parents and the babysitter. The amount of remuneration is the sole responsibility of the contracting parties. The Studierendenwerk does not make any stipulations regarding rates of remuneration or minimum remuneration and is also not entitled to demand specific rates of remuneration or minimum remuneration from students for accepted assignments. Please check residence and work permits for foreign babysitters. Please read the terms of use on the babysitter exchange carefully. Of course, you can always contact us by phone or in person if you have any questions.
Click here to go to the service portal.
We offer students with a child or several children the opportunity to get to know other students in the same life situation away from daycare or kindergarten:
with our Family Tours during small, family-friendly excursions
with a parents' group to exchange experiences, children's things and much more.
Contact to parents group see info box on the right
Under-10-year-old children of students receive a free child's plate with their parent's or guardian's meal.
To heat up bottles and jars, you will find a microwave in every cafeteria.
In some of our dormitories there are apartments for families. Student parents with a child fall under the groups of people with special needs. They are given priority in the allocation of rooms.
Contact via wohnen@swfr.de
Our project "Living for Help" offers you the possibility to live cheap and socially engaged.
Contact via wfh@swfr.de
All universities from our support area are committed to a family-friendly infrastructure. The social departments of AStA/Verfasster Studierendenschaft can also help. Contact via the social counseling (info box on the right)
If you are expecting a child or have already become a mother or father, you are entitled to financial assistance from the state: for example, child benefit, child supplement, childcare allowance, advance child support, parental allowance, housing allowance, and much more. Our social counseling service will be happy to provide you with detailed and individually tailored information. Contact in the info box on the right.
Networking meeting of student parents
Networking meetings for student parents take place from time to time.
Childcare at our other locations
Students with children in Offenburg have the opportunity to use childcare close to the university. This is based on an agreement between the university, the Studierendenwerk Freiburg and the city of Offenburg, which provides places for students in its municipal district and family centre in Uffhofen.
Upon application, the Studierendenwerk subsidises the monthly childcare fee for children under the age of three in the amount of the difference between the daycare fees of the Uffhofen district centre and the cost of a daycare place in the Studierendenwerk facilities in Freiburg. Only students receive this subsidy from the Studierendenwerk!
Applications are accepted by Mrs. Litterst at the SWFR offices in Offenburg (B017).
Renate Litterst
Telephone 0781 205-328
E-mail: office-offenburg(at)swfr.de
The Studierendenwerk cooperates with the Catholic Family Centre, the city of Furtwangen and Furtwangen University to make it easier for students with children to study. The day care centre offers childcare for children from eight weeks to primary school age.
Contact:
Furtwangen University
Ms. Katharina Lupfer
Tel. 07723 920-2055
E-mail: lupf(at)hs-furtwangen.de
The Studierendenwerk Freiburg-Schwarzwald cooperates with the city of Villingen-Schwenningen to make it easier for students with children to study.
Contact:
Ms. Birgit Tabor
Tel. 07720 - 99322 45
E-mail: tabor(at)swfr.de
Our Studikid set for student parents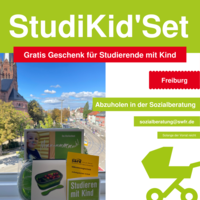 For all other questions and advice about studying with a child, contact us by mail sozialberatung@swfr.de or come by our office at Baslerstraße 2. As a gift, you will receive a Studikid set with a Mensa voucher worth 10 euros, a Kita cookbook and a surprise gift.
Studieren mit Kind? Das Studierendenwerk bietet vielfältige Hilfen für Studierende mit Kindern, von Kita-Plätzen bis hin zu kostenlosem Essen in den Mensen und den Family Tours - Ausflügen (s. Vernetzung & Austausch). Die Sozialberatung des Studierendenwerks ist Ansprechpartner für alle Fragen rund ums Thema Studieren mit Kind.
Wer persönliche oder studienbedingte Probleme hat, kann sich an uns wenden. Unsere Beratungsstellen bieten professionelle und kostenfreie Unterstützung. Unsere Sozialberatung hilft bei Fragen zu Sozialleistungen, finanziellen Entlastungsmöglichkeiten, Kinderbetreuung und Versicherungen und stellt Kontakt zu anderen Beratungsstellen und Ämtern her. Kontakt über die Sidebar im Kasten rechts.
Unsere Studienfinanzierungsberatung berät zu Darlehen und Stipendien und vergibt für akute Notsituationen Notgelder.
Kontakt über stufi@swfr.de
Unsere Psychotherapeutische Beratungsstelle hilft bei persönlichen oder studienbedingten Problemen und unterstützt euch dabei, herausfordernde Situationen zu meistern. Außerdem bietet die PBS Workshops für ein erfolgreiches Studium an.
Kontakt über pbs@swfr.de
Unsere Rechtsberatung hilft mit einer kostenlosen Erstberatung.
Kontakt über rechtsberatung@swfr.de
Es gibt einige Sonderregelungen für Schwangere und Studierende mit Kind, zum Beispiel ein Kinderbetreuungszuschlag für Studierende, die mit ihren Kindern unter 10 Jahren in einem Haushalt leben oder Erleichterungen bei der Rückzahlung des Darlehensanteils.
Unsere BAföG-Abteilung hilft gerne bei Fragen weiter.
Kontakt über bafoeg@swfr.de
Neben unseren SWFR Kitas Kleine Knöpfe und Kita Pusteblume haben wir noch weitere Kooperationen. Zusätzlich bieten wir noch die Babysitterbörse an, welche ein kostenfreies Angebot ist. Über unsere Börse finden Eltern kurzfristig die passenden Babysitter, schnell, unkompliziert und auf die individuellen Bedürfnisse ausgerichtet. Die Börse findet ihr in unserer Jobvermittlung im Serviceportal. Das Studierendenwerk ist lediglich Vermittler. Im Betreuungsfall muss ein Vertrag zwischen Eltern und Betreuungsperson geschlossen werden. Die Höhe der Vergütungen ist ausschließlich Sache der Vertragspartner. Das Studierendenwerk macht keine Vorgaben zu Vergütungssätzen oder Mindestvergütungen und ist auch nicht berechtigt, bestimmte Vergütungssätze oder Mindestvergütungen von den Studierenden für übernommene Aufträge zu verlangen. Bitte überprüft bei ausländischen Babysittern die Aufenthalts- und Arbeitsgenehmigung. Bitte lest die Nutzungsbedingungen auf der Babysitterbörse aufmerksam durch. Natürlich könnt ihr uns bei Fragen jederzeit telefonisch oder persönlich kontaktieren.
Hier geht's zum Serviceportal.
Wir bieten studierenden Eltern die Möglichkeit, andere Studierende in der gleichen Lebenssituation abseits von Kita oder Kindergarten kennenzulernen:
mit unseren FAMILY TOURS bei kleinen, familienfreundlichen Ausflügen
mit einer Elterngruppe zum Austausch von Erfahrungen, Kindersachen uvm.
Kontakt zu Elterngruppe siehe Infokasten rechts
Unter-10-jährige Kinder von Studierenden erhalten zum Essen ihrer Eltern oder ihres Elternteils einen kostenfreien Kinderteller.
Um Fläschchen und Gläschen aufzuwärmen findet ihr in jeder Mensa eine Mikrowelle.
In unseren Wohnheimen gibt es zum Teil Apartments für Familien. Studierende Eltern mit Kind fallen unter die Personengruppen mit besonderen Bedürfnissen. Bei der Zimmervergabe werden diese bevorzugt behandelt.
Kontakt über wohnen@swfr.de
Unser Projekt "Wohnen für Hilfe" bietet euch die Möglichkeit, günstig und sozial engagiert zu wohnen.
Kontakt über wfh@swfr.de
Alle Hochschulen aus unserem Betreuungsbereich setzen sich für eine familienfreundliche Infrastruktur ein. Auch die Sozialreferate von AStA/Verfasster Studierendenschaft helfen weiter. Kontakt über die Sozialeberatung (Infokasten rechts)
Wenn ihr ein Kind erwartet oder schon Mutter oder Vater geworden seid, habt ihr Anspruch auf finanzielle Hilfen durch den Staat: Zum Beispiel Kindergeld, Kinderzuschlag, Betreuungskostenzuschuss, Unterhaltsvorschuss, Elterngeld, Wohngeld, u.v.m. Detaillierte und individuell abgestimmte Infos gibt´s gerne für euch bei unserer Sozialberatung. Kontakt im Infokasten rechts.
Kinderbetreuung an unseren anderen Standorten
Studierende mit Kindern haben in Offenburg die Möglichkeit, eine hochschulnahe Kinderbetreuung zu nutzen. Grundlage ist eine Vereinbarung zwischen Hochschule, Studierendenwerk Freiburg und Stadt Offenburg, die in ihrem kommunalen Stadtteil- und Familienzentrum Uffhofen Plätze für Studierende zur Verfügung stellt.
Das Studierendenwerk bezuschusst auf Antrag die monatliche Betreuungsgebühr für Kinder unter drei Jahren in Höhe der Differenz zwischen den Kita-Beiträgen des Stadtteilzentrums Uffhofen und den Kosten eines Kita-Platzes in den Einrichtungen des Studierendenwerks in Freiburg. Diesen Zuschuss des Studierendenwerks erhalten nur Studierende!
Anmeldungen nimmt Frau Litterst in den Räumen des SWFR in Offenburg (B017) entgegen.
Renate Litterst
Telefon 0781 205-328
E-mail: office-offenburg(at)swfr.de
Das Studierendenwerk kooperiert mit dem katholischen Familienzentrum, der Stadt Furtwangen und der Hochschule Furtwangen, um Studierenden mit Kindern das Studium zu erleichtern. In der Kita werden Betreuungsplätze für Kinder ab acht Wochen bis ins Grundschulalter angeboten.
Kontakt:
Hochschule Furtwangen
Frau Katharina Lupfer
Tel. 07723 920-2055
E-mail: lupf(at)hs-furtwangen.de
Das Studierendenwerk Freiburg-Schwarzwald kooperiert mit der Stadt Villingen-Schwenningen, um Studierende mit Kindern das Studium zu erleichtern.
Kontakt:
Frau Birgit Tabor
Tel. 07720 - 99322 45
E-mail: tabor(at)swfr.de
Unser Studikid-Set für studierende Eltern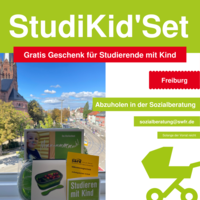 Für alle weiteren Fragen und Beratung rund ums Studium mit Kind, kontaktiert uns per Mail sozialberatung@swfr.de oder kommt gerne bei uns in der Baslerstraße 2 vorbei. Als Geschenk gibt es das Studikid-Set, eine praktische Lunchbox mit Löffel und Gabel mit einem Mensa-Gutschein im Wert von 10 Euro, Kita-Kochbuch und ein Überraschungsgeschenk.