Tandem Programm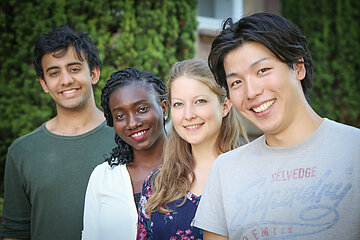 Looking for tandem partners to practice a foreign language or spend free time together? Language is the key to another culture and perhaps also to a new friendship. Join the Tandem Portal of the International Club.
How does the program work?
Step 1: Sign in at the Service Portal [link to the Service Portal]
If you don't have an account yet, you have to register for it.
You can find it in the upper right corner of the website. If you are already registered, simply log in with your user data.
Step 2: Create a tandem profile and search for a language partner
Our Tandem Facebook group will continue to exist. Here you can get short term information about tandem parties etc. and network: link to the Tandem group on Facebook
---
Beside the Tandem Portal, you can also use out tandem Facebook group. Here you will also get information about events where you can get get connected with other studentsich vernetzen kann: link to the tandem group on Facebook