Ulrich Zasius House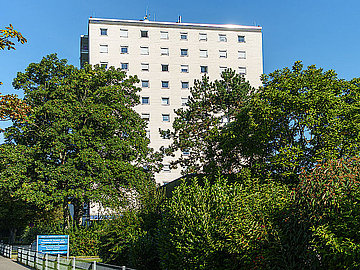 Between the student-village "Studentensieldung am Seepark" and the city center, at the edge of the district Stühlinger, is our dorm Ulrich-Zasius-House (UZH). Named after one of the first professors who taught at the Albert-Ludwigs-Universität, it is our oldest student-residence. Nevertheless, the house is energetically on a modern standard, through comprehensive rehabilitation works.
The students live in floor-sharing-communities, that means, every student has his own room, kitchen and shower/toilet will be shared. On your floor you will live with 15 other students.

You can reach the city centre and the University in 10 minutes by bike. The University hospital is reachable in just 5 minutes.
Capacity
176 rooms
Address
Lehener Straße 90, 79106 Freiburg
Prices
from 250,00 € for a single room in floor-sharing community
(rents increase due to gratuated rents)
The rent includes all additional costs, that means electricity, water, heating, garbage and internet fee.
Equipment
furnished rooms with basin, bed, wardrobe, chair, table, desk in floor-sharing communities with for 16 students
spacious kitchen and dining area/living room on each floor
internet connection (by cable), WLAN router in the room
central washing machine and dryer facilities
common room and Workshop
bike and car parking space
Direction to the dormitory Ulrich-Zasius-Haus:
You will find the tram stop at the bridge, which crosses the main train station.
Take tram no. 2, direction "Hornusstrasse" or no. 4 direction "Messe". Get off at the stop: "Robert-Koch-Straße" and go back about 150 meter, there you will find a crossing.
The Ulrich-Zasius-Haus is only a few hundred meters away in the Lehener Strasse 90.