The first steps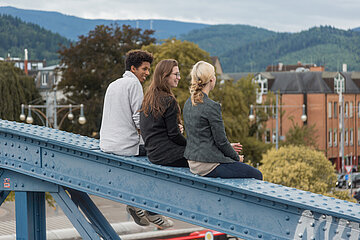 Got a place to study in Freiburg! What now? Here we have compiled the first steps in Freiburg for you. To help you find your way around in our beautiful university city of Freiburg and make new contacts quickly, we offer you a lot of information under the column International.
Important for all students with passports from countries other than EU member countries, Iceland, Liechtenstein, Norway and Switzerland:
You are required to obtain a residence permit for Germany.
If your visa or residence permission cannot cover the period of your study in Germany, please contact the local foreigners authority to make an appointment for the application for a residence permit. Generally, the application process will take around 4-6 weeks.
Room, health insurance, personal support and many offers for a quick settling in! The service package makes it easy for her to get started in Freiburg. How does it work? How can you register for it? Everything is explained here: Website of the Service Package for International Students
Train connections to and from Freiburg can be found at www.bahn.de
If you are arriving at Euroairport, you can take the Freiburger Airportbus to get to Freiburg.
Students participating in exchange programs can usually get a room through the universities at one of the dormitories.
All those who are not in an exchange program or coming to Freiburg as a free-mover, have to find an accommodation by themselves.
In contrast to many other countries, students in Germany are not provided a room automatically upon admission to a university.
1. Student dormitories
Even if you're not coming to Freiburg as an exchange student, you can apply for a room in one of the SWFR dormitories.
Living in a dormitory provides a lot of opportunities and can be beneficial in finding new friends. However, living in a dormitory also has unique characteristics and one has to follow certain rules. Usually the apartments or floors are shared by male and female students who also share a kitchen and sanitary fittings. They have individual rooms though. The residents are collectively responsible for the cleanliness of the shared areas. This means that all students, regardless of their gender, are required to clean. Of course, residents are also required to clean their own rooms by themselves.
The Studierendenwerk has initiated an international dormitory tutor program. The tutors are tasked with aiding the international students in particular and will help them with questions regarding the everyday life. Furthermore, they're offering a cultural and leisure time program for all residents in the dormitory.
2. Private accommodations
There are several options for searching for private accommodation in Freiburg. These options include for example small apartments, as well as shared apartments or rooms within the landlord's apartment with shared bathroom and kitchen spaces. The shared apartments (WGs) are often mixed, meaning that men and women live in one apartment and the works in the household have to be done mutually.
The SWFR provide a free housing market with different kinds of accommodations.
All students in Germany are required to take out health insurance. We recommend statutory health insurance which grants students a discounted rate until they reach 30 years of age.
The statutory health insurance covers visits to general practitioners and physicians as well as prescribed medication. Some services or medications may require a small additional contribution.
Please note: This insurance does not cover the costs of cosmetic dentistry.
For the matriculation o the university, students have to acquire a health insurance or a confirmation of exemption from compulsory insurance (e.g. for students with EHIC - "European Health Insurance Card").
You can find more information on this topic here: website of the Deutsches Studentenwerk on health insurance
You have questions about the health insurance? Feel free to contact our social counseling.
The process of enrollment takes place at the office of student affairs of the respective university.
The following documents are usually required:
Admission letter from the univrsity
Identification Card (Students from European Union member states, Iceland, Liechtenstein, Norway and Switzerland)
Application form for enrollment
Proof of health insurance or proof of exemption from compulsory health insurance
€180 / €103 for Erasmus and exchange students
Please note: Since the winter term 2017/18, students from non-EU member countries have to pay €1500 tuition fees to the university in the state of Baden-Wurttemberg. The universities will be glad to answer any questions regarding the tuition fees.
German Registration Law requires all people living in Germany, temporarily or permanently, to register their accommodation at the Citizen Registration Office (Bürgeramt).
You have to make an appointment online for the accommodation registration ("register apartment").
The following documents are required for the registration:
Identity card or passport
Certificate of the housing provider ("Bescheinigung des Wohnungsgebers", not equal to rental agreement)
If applicable, identity cards of family members: For children who do not have a children's passport, you must present the birth certificate
If applicable, original certificate with translation in case of marriage abroad or birth of children abroad
If applicable, questionnaire for the registration of underage children
Please keep the registration confirmation ("Anmeldebestätigung") with all your other important documents, as you may need it for many other issues.
Find more information about the registration in the city here on the website [only available in German]:
https://www.freiburg.de/pb/-/205332/vbid3818
If you're planning on staying longer than a couple of weeks in Germany, you should open a bank account here. They are usually free of charge for students. With a German bank account, you can for example:
withdraw money free of charge from cash machines in Germany,
make payments electronically,
and set up "standing orders" for regular payments – like rent, health insurance or telephone bills – which ensures that the money is transferred automatically and on time every month.
If you take a part-time job in Germany, you will need a current account to receive your pay.
To open an account, you are normally asked to present the following documents:
Passport or personal identification card,
Student ID or certificate of enrollment ("Immatrikulationsbescheinigung") or admission letter from your university,
Registration confirmation from the Resident Registration Office,
and eventually visa for Germany or residence permit from Foreigners Authority.
Find more information about bank account in Germany here:
https://www.study-in-germany.de/en/plan-your-stay/money-and-costs/money-and-bank-accounts_27017.php
How can you find the right doctor in an unfamiliar city? Our social counseling helps to find the right doctor with foreign language skills.
Office hours of the Social Counseling Service are Tuesday from 9:00-12:00 and Thursday from 13:30-16:00, and by appointment by phone.
Students who are not from EU countries, Iceland, Liechtenstein or Norway are allowed to work a maximum of 120 full working days or 240 half working days per calendar year. This restriction does not apply if you have a part-time student job at the university or at the Studierendenwerk.
If you would like to have more information on this topic, kindly contact our social counseling.